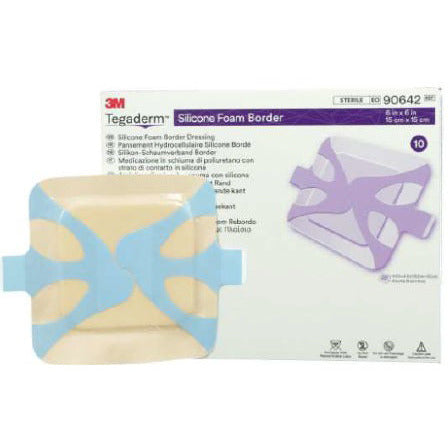 3M Tegaderm Silicone Foam Dressing
Cardinal Health Canada
Sale price
$99.95 CAD
Regular price
Gentle, absorbent and secure silicone Foam Dressing effectively handles low to high exudating wounds. Innovative layered technology absorbs and evaporates moisture to maintain an optimal wound healing environment.
Features
Dressing stays in place, yet removes gently, suitable for use on fragile skin.
Multi-layer design provides high absorbency and fluid management, decreasing the risk of skin maceration.
Dressing absorbs/manages low to high levels of exudate, helping protect periwound skin and maintain moisture balance.
Dressing does not adhere to the wound bed and periwound skin (undisturbed healing environment).
Adhesive film backing is waterproof, allowing dressing to be worn during bathing.
Can be worn for up to 7 days.
Low friction backing to minimize shear force.
Dressing can be lifted and repositioned without losing adherent properties.
Additional Information
Latex content:

 

Latex-Free

Brand:

 

Tegaderm™